This is part 2 of a recent interview with our high school seniors.
Click here
to read part 1 which featured Patrick. Today we continue our interview with Ephraim.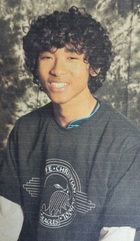 Ephraim appeared nervous as he settled into the plastic chair normally reserved for the Kindergarten Supervisor. Regardless of any apprehension, he quickly responded to each question with an air of reverence. His thoughtful responses unfold the depths of his heart. Even his school demographics make known the fact that Ephraim's heart beats for something bigger than himself:

• Favorite subject?
"History"


• Least favorite subject?
"Math"


• Best year? And Why?
"3rd grade. I had my best friends."


• What are your future plans?
"Maybe become a missionary."

Ephraim readily acknowledged that the highlight of his high school experience, the thing he will always remember, is "being happy with friends." If his classmates were to describe him, he believes they would use the word crazy. A fact he shared with a hint of a smile and a gleam in his eyes. Ephraim didn't hesitate when asked what his teachers might remember about him, "My happy and spunky attitude." Ultimately, he hopes to be remembered as "someone who is openhearted."

His unbiased reflections allow him to confront the one thing he would change about himself, "accepting people's opinions." As Ephraim deepens his capacity to accept the opinions of others, High School Supervisor Mrs. Harris had much to say about Ephraim's skill in expressing his own:
"I have enjoyed his writings in English class as he has expressed opinions, feelings and observations with humility, clarity and much insight. I would not be surprised if there are some books in his future."

His power point project for Mrs. Wendy ranks high on his list of high school accomplishments. And the kind of activities Ephraim would like to pursue? He wants to "keep learning language." A detail that inspires Mrs. Harris who truly believes God will use him both globally and mightily.

Like Patrick, Ephraim has gladly volunteered his time at a community clinic. Not unlike many youth of today, he enjoys playing video games and surfing the internet in his free time. And the things he just can't stop talking about? His favorite cartoons and places to go top that list. Just ask him about Sonic the Hedgehog, AstroBoy, and the old Mickey cartoons. If theme parks are more your thing, allow him to point you in the right direction: Universal Studios and Disney World.
"If you go to the Islands of Adventure you should go on the Hulk, especially at nighttime."

Ephraim's advice covers more than theme parks. As he prepares to leave WOLCS he gives the freshmen one directive, "Work hard." Something he has had to master in his experience with Mathematics. Course work that taught him to not give up and "just study hard."

After some prompting, Ephraim addresses our staff and acknowledges the one thing that he feels makes a good teacher; when they "have the love of God in them." He spoke from his heart as he remembered his 3rd grade teacher, Mr. Gornoski, the one person that markedly changed him as he "expressed the Word of God to me."

Naturally, when asked if he could meet anyone, dead or alive, Ephraim chose Jesus. Before unfolding his long limbs from the confines of the plastic chair and gingerly taking his leave, Ephraim encouraged the reader to, "keep a close relationship with God."

Patrick and Ephraim are strikingly different, but equally respected by staff and classmates alike. There is much excitement for this year's class of 2015. Two young men ready to step into the world and make their mark. Although they are set to graduate soon, they will remain in our hearts and prayers for many years to come.

Interviewer's note: Interestingly, when questioned, both Patrick and Ephraim deny knowledge of any "hot topics" at the school. As far as they can tell, all is in working order at WOLCS. For that, we are thankful.