Ephraim and Patrick recently sat down for an interview where they shared not only their thoughts of their time spent at WOLCS, but also gave a glimpse into their plans for the future. They graciously opened up with an exclusive look into their lives. From inspirational to hysterical, their musings are refreshing.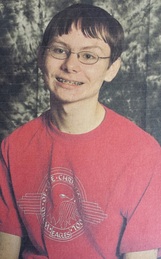 Patrick didn't hesitate when asked, "If you could change one thing about WOLCS, what would you change?" His animated reply burst forth readily.

"Indoor PE! I don't do it, but I'm just saying. It's too hot out there!"

Patrick's good-natured responses revealed more than his school demographics:

• Favorite subject?
"Science"


• Least Favorite subject?
"English"


• Best year?
"5th grade"

They also showed his desire to do his best which, according to high school instructor Mrs. Harris, will serve him well in the future. A future that Patrick plans to begin at Florida Polytechnic University as he continues his education and studies Engineering. A future with a possible trip to Washington D.C? Patrick hopes so. Once high school is complete he would like to visit our nation's capital, particularly the museums.

In line with his favorite subject, Patrick's research paper on Spatial Discovery defined a gratifying moment in his high school experience. However it wasn't the highlight. The moment he will always remember?

"I did get voted Prom King last year."

Patrick believes his teachers will remember his distinct personality a year from now. "I've been here enough years for anyone to know that," he quipped. However he does hope that the teachers will remember him as "a good person who is smart." Mrs. Harris confirms that she will always remember Patrick's determination to score perfectly on every test. She envisions Patrick as, "a future engineer meticulously working on projects that will benefit us all."

Although Patrick admitted to spending his spare time building things he also reaches out to his community. This past Summer Patrick enjoyed volunteering his time at Bartow Public Library as compared to last Summer when he volunteered at Watson Clinic.

"Outside! All Summer. That's ridiculous," he remarked.

And when he's not studying, building, or volunteering? You might hear Patrick mention his pets. They are the one thing he can't stop talking about.

"I've got so many of them."

Six cats, three dogs, a tortoise, skink, and parrot testify to that. Still, that's not all. There are snakes. How many snakes?

"I don't know. I don't count them." After a brief pause, "I feel like I am forgetting something."

Patrick entertained as he comfortably fielded each question. Before closing the interview Patrick answered two final questions:

• If you could meet anyone, dead or alive, who would it be?
"Beethoven. I like classical music. That'd be cool."


• Tell about a person or event that has markedly changed you.
"Coming here. It changed my life."


Special Note: Ephraim is featured in part 2 of our senior interview which will post soon.